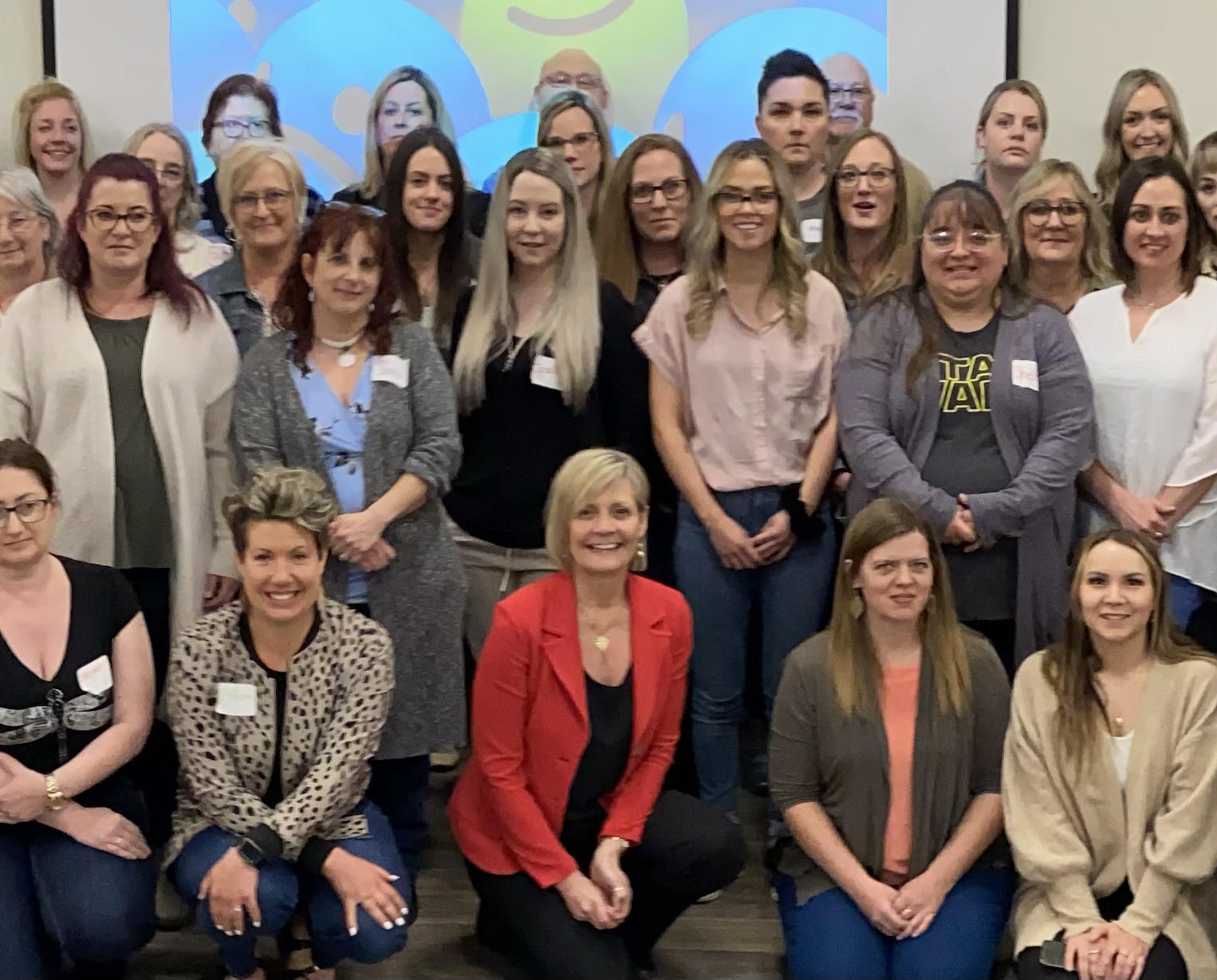 31 Aug

Doing The Work: Great Workplace Cultures Aren't Built Overnight
The story of how McMan Central is strategically creating a thriving culture.
Tucked away in Innisfail, Alberta there is a house finished neatly in a cream stucco and brown trim. This home has held many people, and witnessed extremes of happiness and sorrow within its walls. Two towering spruce trees stand sturdy in the front yard, observing the comings and goings of the neighbourhood. In the summer, planters attached to the house are filled with petunias and geraniums. The neighbours in the area are supportive and kind, and if you stand inside the living room, you can see a beautiful, grassy field across the street.
This is how Sherri McAllister, Executive Director of McMan Central describes the two-storey, six-bedroom group home from the early 1980s, when she first worked as a social worker.
Her role with McMan Central officially began in 1989, when McMan won the contract to run this home and she was hired as a program supervisor. From there she moved through the roles in the organization, and, along with her peers, built the region that they have today in Central Alberta. McMan Central has grown substantially over the last 30 years, and as Sherri says, "she grew up in this organization!"
Although Deborah Connors of Well-Advised Consulting Inc. and Sherri have known each other for many years, it was the purchase of Deb's book, A Better Place To Work: Daily Practices That Transform Culture for all of McMan Central's staff when it was hot-off-the-press in 2018 that connected them work-wise. Deborah has played a strong role in the story of how Canadian workplaces have adopted practices to become better places to work. She developed The Better Workplace Conference, a national event that she led for 17 years. Through her consulting, speaking, and courses, she teaches leaders how to create cultures where people can flourish and contribute their best.
Perhaps it was a little bit kismet that these two leaders came to do some work together, because they both wholeheartedly believe in, and are working toward the same thing: creating exceptional, lasting workplace cultures. Sherri leads an organization, and Deb leads leaders in creating these cultures.
Sherri and Deb call tell you one thing for sure: when you walk into an organization with a great culture, you can feel it. Deb has encountered this time and again when she consults or speaks in various workplaces. Sherri, as an accreditor for CARF (The Commission on Accreditation of Rehabilitation Facilities), notices the same thing, and says, "When I go into an organization to accredit them, as soon as I walk in the door, I get a sense of the culture… are they just meeting standards because they have to, or have they embraced them as best practice?"
When Deb returned from facilitating a two-day Retreat and Planning session with McMan Central in the spring of 2022, she said, "This organization just gets it! They are embracing all that it takes to be a healthy place for people to work."
What, exactly, do organizations like this do differently? In my interview with Sherri, we talked about the growth of McMan Central, the organization's ongoing work with Deborah Connors, and what it takes to make a great work culture!
Tell us about McMan Central?
We are a provincial charity organization that is split into four regions across Alberta, with each region having its own Executive Director. Each region negotiates their own contracts to provide services related to Children and Family Services. Currently, McMan is the largest service provider in Alberta offering programs to children, youth, families and adults.
As a leader, what do you believe is important in creating a great culture?
"Engage, develop those relationships, and do the work!" exclaims Sherri.
"I've always prided myself on relationships, and that goes all the way back to when we had one group home in this region. We now have over $14 million dollars in contracts in Central Region, but that didn't happen without quality, competent staff who give the best service possible. Also, the most important piece to me is the relationship that we have with our funders, with our communities. We didn't get here just based on how to write a good proposal. I firmly believe we got here based on relationships, and that to me is a priority."
Starting where she did within the organization, Sherri also speaks to understanding the challenges of the job and empathizing with staff.
"There's something to be said about having compassion and empathy for the staff who are doing that (social) work. I can truly say 'I understand,' and 'I have been there' and that goes for all of our leadership team… we've all been at the front-line level, and I am so pleased and proud of that because we can all share in that work that we know our staff are doing. It's not just a matter of administrative functions that I do (of course that's a lot of the job now), but I still want to be a part of all of those conversations."
Can you summarize how the pandemic has posed challenges for McMan, but perhaps also highlighted and/or ignited some positive changes as a result of forced closures?
When the pandemic hit, Sherri says they were lucky to have already been planning for a few years to get everything online. They were ready to go remote.
"We have programs that go from the Saskatchewan border to the BC border that are in the middle of nowhere! So, some of our staff already do work remotely."
As the pandemic unfolded, Sherri remarked on how they weren't an organization that could exclusively go remote. "We could not stop working with our kids and families. It was really the administrative folks who were able to transition. Our families needed to be seen, because most of our families are court ordered. We loaded up on all the PPE we could. All of our programs were supplied with that. And thankfully, we already had a strong pandemic plan in place from the H1N1 virus."
A challenging call that Sherri had to make was that wage staff or casual staff often worked for both McMan and an additional organization. "I had to make a difficult decision during Covid, that those staff would have to choose. I could control the environment based on our policies and procedures, but I couldn't control another organization." This meant that some staff were limited to one organization for employment, and then Sherri could bring back the opportunity for employees to work in both organizations.
Over the course of Covid, Sherri also shares that there has been an increase in short-term disability and medical leave. "I do think Covid had a huge impact on our work lives and our personal lives."
What does McMan do to support its staff?
"We offer as many resources and supports as we can" says Sherri. "We had our carriers increase our mental health/therapy sessions. We shifted our vacation and our sick days, so it is now just personal time off. We wanted staff to have those mental health days. You don't always have to be sick! You can choose how to use your personal days.
"We (also) have a health and wellness benefit reimbursement. When I first started it was for a gym membership or a swimming pass, but now, it's about 'What does health and wellness mean to you?' Buying hiking boots and going walking might be for you…or it might be a sewing machine."
A Positive Change
"One of the positives that occurred as a result of Covid, is that McMan Central opened up nine Family Resource Networks (FRNs) across the region through which a lot of virtual programming was done. We got a lot of learning from that! Once our communities got educated on what the FRN was and what it was providing to them, they were used a great deal.
"Once things started to open up again, I had to take a step back because I was saying we should get back to in-person programming…but we had to remember that those families really liked the virtual! They didn't have to worry about a babysitter, or thinking 'Oh, I only have one vehicle or I have to wait until my partner gets back from work.' We learned a lot through Covid about truly meeting the needs of our families that way. That was really positive!"
How has your ongoing relationship and interactions with Deborah Connors/Well-Advised Consulting Inc. impacted your organization? What has been one of the most valuable tools she has used with your team?
With the publication of Deb's book, Sherri said to herself, "I've got to have this! So I ordered a book for everyone at the time. And of course, since then our staffing has increased, so we ordered more books!
"Deb was offering all these fantastic workshops and courses, and I did take the opportunity to put staff through those, which were great! As two of our leadership team attended her Leading A Better Place To Work course, we spent a good year working through her book. At every leadership meeting, we would just take a chapter of the book and talk about what resonated and how we could apply it.
In terms of tools, Sherri says, "I like the SOAR (assessing Strengths, Opportunities Aspirations, and Results) … that was my favourite. A lot of it is just shifting perception. Our staff really got engaged in SOAR at the staff retreat, and I was so thrilled to see that. We had engagement from our summer students all the way through to our leadership…we now have committees, which are made up of frontline staff to leadership. Everyone from the ground up is working!
"One of the things that I took away from Deb's presentation is that we can work so hard on creating the culture that we want, but I also believe it is an investment, and Deb was a huge resource in that. I wouldn't hesitate to invest in her again to continue in the direction we want to take and get us to that amazing culture that we want. She has given us so many tools already to get there."
How is the strategic work that you have done with Deb different from other strategic planning or leadership development that you have done?
"With Deb it was all geared in a positive direction! We would say something from our 'old world' of strategic planning like 'What are our threats?' and she would change that to 'What are the opportunities in that threat?' or 'What is the strength we're seeing here?' So, what is interesting is that when we got into talking about the negatives on the day that we were fine tuning our priorities, we were able to shift to focus on where we want to go (versus where we've been). The end result was so positive. And for some of our staff that was a real eye-opener.
"Deb has helped some of our leadership team to look at different ways to lead…whether that's coaching staff in a different way, or the approach that they have with staff. We've gained so much from working with her over the years. It's just that shift."
---
Leadership is fundamental to great workplace cultures. One of the ways Sherri demonstrates great leadership is exemplified in this quote: "What I have always said from the day I started with McMan," said Sherri, "is your family always comes first. Your personal family, your personal life. If you are not healthy, there's no way you can be helpful for our families, because (the work) is so intense and stressful."
Sherri McAllister is a woman who is simply doing the work–-every day, along with her team–-of building a great workplace culture at McMan Central. She sees the value of healthy workplaces that have flourishing, communicative teams, and compassionate, empathetic leaders. With Deborah, she's found another leader who has the tool kit and expertise to guide them further on their journey.
"This is why investing in culture is so important to me. This can't stop. I've got about six staff that have been through Deb's course, and now I want to continue and send some more. We need to keep this momentum going because it all just trickles down to the front line, and then trickles back up again. I'm pretty excited about moving forward."
---
Tucked away in Innisfail, Alberta there is a home finished neatly in a cream stucco and brown trim. Nearly 40 years later, it has changed a little. It isn't used as a group home anymore, but McMan Central still uses the home for family visits.
The house has been repainted. The Spruce trees have been taken down to let in more light. If you stand inside the living room of the house, you can look out the window and see that once beautiful, grassy field has become a popular family park.
If you ever go to Innisfail, perhaps you'll see this house, and you'll know: things that are built well, last.
Contact us to discuss your team's needs and book an experience with Deb.